Our Movement
Bihar Anjuman's Facebook Page: Full capacity (5,000 friends)
New Bihar Anjuman's Facebook Page Created: Be a friend & remain updated
... Bringing together Muslims from all walks of life to interact and act jointly with an objective to educate, motivate, inspire and instill confidence in our young generation. Let's eradicate miseries and evil practices from our society. Let's put our unspent energy to constructive use. More about us...

SABA
SABA(Shadi Assistance by Bihar Anjuman) provides free matrimonial service.
In June 2009, Bihar Anjumna has launched an exclusive website for matrimonial, SABAOnline. More about SABA...
BANEE
Banee(Bihar ANjuman's Educational Empowerment projects) provices shcolarshiep for those students who have excellent track record of academic performance and belong to the economically weaker section of the Muslim community. More...
BAJEE
BAJEE( Bihar Anjuman's Jewels for Educational and Economic Empowerment) is facilitating Women's real empowerment.
To instill more confidence in our sisters who are currently hesitant in giving us a hand. More...
Member of BAJEE will also be a member of BA.
Current Campaigns
View Report of the Event: Learn and Understand 50% of Quranic words in just 15 hours [Understand Quran, The Easy Way: 3 Day Course in Patna]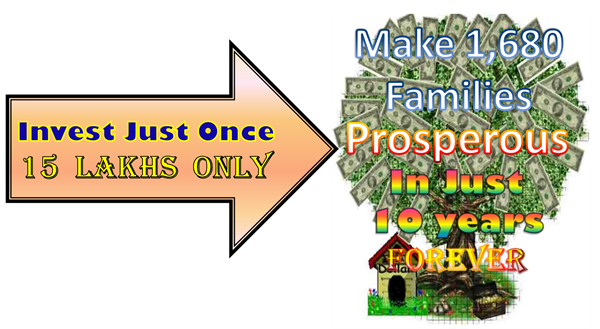 RAHBAR Coaching Centre, Samastipur conducted 4th Awards Ceremony [31-10-2010]: Mr. Bal Krishna Yadav, Officer-in-charge of Waini Police Station presided over the ceremony (in the picture, below).

1st Awards Ceremony conducted, in RAHBAR Coaching Centre, Jamshedpur, on 13th August. Chief Guest: Mr. Yogesh Kr. Wahati also took an hour of Physics class. Read the full report.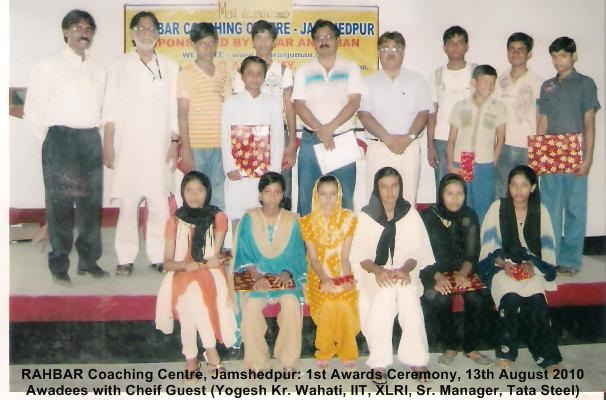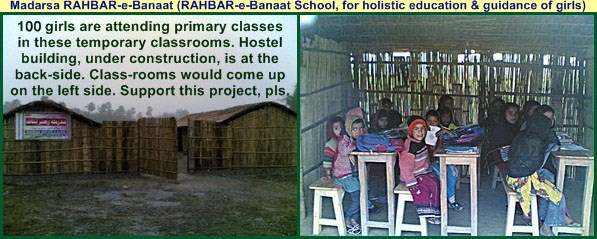 Breaking News:
19th

Coaching Centre (RAHBAR Coaching Centre, Hazaribagh) started on 22nd October 2011 ... 5th centre in Jharkhand.
Breaking News: 100% Result @ Bihar Board Exam, by Many RAHBAR Coaching Centres These potential drop-outs rose from a ZERO level to claim 189 10th Board Pass-outs, and 23 Diploma Engineers (fully-funded 3 year engg studies).

RAHBAR Coaching Centre, Muzaffarpur: 1st Awards ceremony conducted on 22nd July, 2010. Classes started on 20th June, 2010. Click for details of this centre.
Breaking News: RAHBAR Coaching centre, Baghauni (Samastipur): 15 out of 16 students pass the Bihar Board Exam (one girl could not make it). 2nd Awards ceremony conducted on 1st July 2010.

RAHBAR Coaching Centre, Gopalganj (Bihar): 1st Awards ceremony conducted on 4th August 2010. Click to view details of this centre.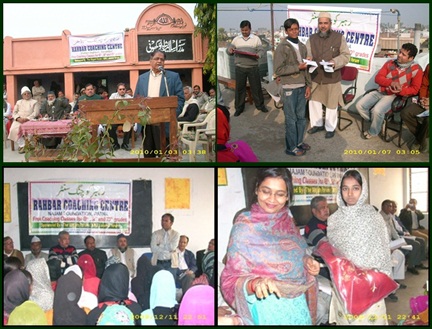 RAHBAR Coaching Centre, Rafiganj (Aurangabad): 1st Awards ceremony conducted on 6th June, 2010 [Classes started on 2nd April 2010]. Click for details of this centre.

Hone Your Writing Skills: Bakhabar Publishing team invites you to write an article on what you have learned in this world, or how you perceive this world, or what you want this world to know from You. That shouldn't be tough for an intelligent person like you. Well, you could write whatever you think could be useful to anybody in the world.

Submit your article today - View guidelines for articles

RAHBAR, a registered NGO (BA) adopted the camp in WILLIAMS school, Supaul, abandoned by Steel Authority of India Limited (it was being managed by the instructions of Ram Bilas Paswan, federal minister). Here, about 500 people were taking shelter.
Discussion Forum
Join Bihar Anjuman
RAHBAR is registed in 2008 at Delhi under Societies Registration Act of XXI, 1860 and registration number is S/61216/2008. It has 7 Governing members. More about governing ...
RAHBAR can establish local chapters in any location within India. More about Rahbar...
Click to join Bihar Anjuman's 10,000+ members
Initiate a Chapter
A Chapter can be initiated by the respective brothers in their city or country of residence. Basically, the local chapter may act as a medium between the local people and people in other chapters as well as the international community.
JOB-INFO-CELL
The Patna Chapter decided to collect job information globally from members and let these candidates to know where the job is and how to apply, so that maximum students get jobs.
More about Job-Info...