About Bihar Anjuman

Location of Office (provided free by IMEFNA):
Anand Place, Anand Vihar, opposite Police Colony, Anisabad, Patna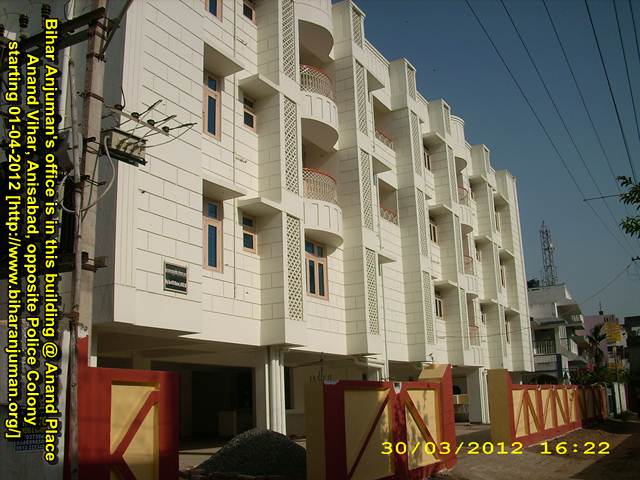 BA History
The foundation for Bihar Anjuman was laid on 11th March 1999, with some people joining hands to help those who may be in need of financial help, or in need of job.
The driving motto was to urge the people to join hands together and pool their resources for maximizing the benefits to the Muslim society in general and to the Bihari and Jharkhandi society in particular.
Review Anjuman's objectives.
"If a free society cannot help the many who are poor, it cannot save the few who are rich."
- John Fitzgerald Kennedy, from his Inaugural speech, January 20, 1961.
Existence of Yahoo Group
Its Yahoo! Group came into existence, on 14th June 2004, with an intention to take the movement beyond the borders of one country, to bring in its fold people who feel like belonging to the family of Muslim brothers and sisters from Bihar and Jharkhand, living anywhere in the world. The successful model of one place could thus be implemented anywhere on the globe where some of these family members lived.

In its current form, Bihar Anjuman is not an organization, but simply a network of individuals and organizations whose hearts beat for Bihar and fellow Muslims worldwide.
Why is this Group formed?
"Let there arise out of you A Group designed to carry out Allah's order in inviting people to what is good, enjoining what is right and forbidding what is wrong. And it is they who are The Successful." (Qur'an, 3:104)

Bihar Anjuman has been able to bring many active, kind, knowledgeable and resourceful people together, from all corners of the world, to interact and act jointly to educate, motivate, inspire and instill confidence; to remove disappointments, eradicate miseries, and help the needy. Subhanallah! The Objectives are just the abstract of ideas that float in the minds of many of us who desire to serve the community but don't find an appropriate channel to do so.
It's time to take note, and stand up, dear brothers and sisters!
Small deeds done are better than great deeds planned.
Although it is not possible to list all that the Bihar Anjuman has been able to do till date since its inception, a few of the efforts in serving the community are presented as Case Studies on this website, just to serve as example of what Anjuman has been doing.

Broad categories of major activities undertaken in the past:
Prepare and maintain a comprehensive directory showing complete names and addresses of all Biharis/ Jharkhandis living anywhere in the world. [Register now].
Anjuman does not maintain any funds, but only raises funds, on a temporary basis, solely from its own member community with a view to encourage genuine participation-by-all and nurture a culture of mutual help and respect in order to get rid of the charity mindset.
Offer aid and assistance to the people of Bihar/ Jharkhand badly affected by natural calamities and other disastrous incidents. An example can be seen by clicking here.
Establish close contacts with other organizations and extend full support in promoting welfare activities outside Bihar for Muslim brethren affected during calamities. An example can be seen by clicking here .
Provide financial support for (a) marriage of economically weak Muslim girls from Bihar, and (b) for technical education to economically weak Muslims of Bihar/ Jharkhand. For details, please click here .
Taken a few steps forward towards establishment of institutions for promoting technical and job-oriented education in Bihar/ Jharkhand for Muslims. As a preparatory move, the sponsor-a-teacher project is a unique experiment. For details click here.
Awarding scholarships to eligible, talented and economically challenged Muslim students of Bihar/Jharkhand pursuing technical education. For details click here.
Propagating Islamic values and participate actively in the reforms leading to betterment of the Islamic society, removing of misconception from our own minds and from those of others - propagate the concept that Muslims have to be MODERATES only, and extremism of any kind is not acceptable in Islam. This may be achieved through regular meetings where Islamic scholars provide guidance. It is propagated internationally through Quran Section of the website, Hadith-Seerah section, sharing views and documents which are published in the articles section of this website, or in the monthly e-magazine (BaKhabar), or in the Islamic Articles section, or in the Islamic videos section.
Organizing religious, literary, social and cultural get-togethers. In any city, whenever a scholar (supporter of moderation in Islam) is on visit, meetings are organized both at the level of Biharis and Jharkhandis and at the national level.
Helping community members in getting decent placement through daily job-postings. Click here for details.
Maintaining a data-bank of prospective employers for the new entrants. List of recruitment agencies with their contact numbers are made available online. Click here to view .
The saddest places on earth are graveyards. Not because people are buried there, but because dreams, talents and purposes that never came to fruition are buried there. Graveyards are filled with books that were never written, songs that were never sung, words that were never spoken, things that were never done.
You have talents and gifts that no one else can offer. There are things you can do that no one else is capable of doing quite the way YOU can do them. Don't rob this earth of your purpose by taking it to your grave.
You see, we all have a purpose, a reason for living, breathing and existing. We all have unique talents and gifts that were created and given to us to be shared. Our task is to understand this and figure out what our purpose is.
You can become as small as your controlling desire, or as great as your dominant aspiration.
Some Projects sponsored:
(1) Coaching to stop drop-outs of school students [18 centres saving the educational career of more than 1,200 students every year]: Each phase of this project will have 7 centres, to provide part-time [http://coaching.biharanjuman.org/] coaching to grade 8th, 9th, and 10th students from poor financial background; 18 of these centres have become operational [Patna centre started classes @ Najam high school, on 4th Aug 2009, Samastipur centre started @ Madrasa Islamia, Shahpur Baghauni, on 16th Aug 2009, classes in Darbhanga centre started @ Little Angel school, Qila ghat, on 6th October, now running @ Darsgah-e-Islami, Purani Mansafi, Darbhanga. The following table presents the year-wise progress of these centres through Bihar and Jharkhand:
| | | |
| --- | --- | --- |
| Year | No. of Centres | Location (District) of RAHBAR Coaching Centres |
| 2009 | 3 | Patna, Samastipur and Darbhanga |
| 2010 | 7 | Chakradharpur, Muzaffarpur, Jamshedpur, Aurangabad, Gopalganj, Arwal, and Chapra |
| 2011 | 9 | Gopalganj2, Kishanganj, Hajipur, Sitamarhi, Ramgarh, Motihari, Dhanbad, Bhagalpur, Hazaribagh |
| 2012 | 5 | Nawadah, Koderma, Siwan, Madhubani and Nalanda |
(2) Madrasa RAHBAR-e-Banat (school project): Comprehensive Holistic Education [Islamic + Contemporary] & Training to every female of Bihar and Jharkhand, by establishing one girl's madarsa-cum-school in every district of the two states. For details, click here.
(3) BANEE Career Centre (BCC), Delhi, successfully coached 22 students in the year 2006 seeking admission to XIth grade and Diploma (Engg) of AMU and Jamia Millia Islamia Universities,
(4) BANEE Career Centre, (BCC) Patna, arranged career guidance programs to undergraduate and graduates. Many walk-in interviews for skilled workers were also arranged in 2007, for UAE-based companies.
(5) BASIL - Bihar Anjuman's Sources of Infinite Learning, an Islamic (all types of knowledge and learning fall under Islamic category) library jointly managed by BAJEE and BANEE Career Centre (BCC), Patna,
(6) BASERA - Bihar Anjuman's Schemes for Empowerment of Rural Areas >>> Phase-1: the drinking water project - provides you with an excellent opportunity to earn the best form of sawab-e-jaariya (to maximize your return on investment - ROI).
(7) Women's Polytechnic in aslum area (Kurji) of Patna, managed by BAJEE, trained 40 girls in 2006, another centre came up in Samanpura, in 2007. In the beginning of 2008, a centre was launched in Patna city. [BAJEE – www.bajee.org - Bihar Anjuman's Jewels for Educational & Economic Empowerment, the women's wing of Bihar Anjuman, led by sister Atia Khan],
(8) BAJEE training centre started in Village Bherokhra, PS: Tajpur, Distt: Samastipur with teaching of Quran and Hadeeth, with effect from 5th August, 2007. In 2008, the centre started training the village girls in sewing. In 2009, this centre distributed 21 sewing machines to the best students. This centre is operated from funds generated locally (same village).
(9) Eye Camps Project led by Dr. Moiz Shams of Makkah Mokarramah, in Sabalpur, Patna, Gaya ….and growing.
(10) RAHBAR, Aligarh chapter of BA coached 58 students in 2007 for entrance tests and arranged two programs for guiding and training commerce students to become CA,
(11) Sponsor-a-teacher successfully recruited 7 quality teachers and deployed them in two institutions - details at http://teacher.biharanjuman.org/
(12) BANEE Scholarship scheme has been able to make positive changes in the lives of 81of its beneficiaries (View list at http://banee.biharanjuman.org/ >>> BANEE, submit online applications at www.banee.org),
(13) SABA (Shadi Assistance by Bihar Anjuman) facilitates match-making and provides guidance on Islamic marriage, hundreds of people have already benefited. [http://www.sabaonline.org/]
(14) Islamic teachings to young generation: inculcating islamic values in everyday life and reducing internecine strife - circulation of beneficial Islamic articles among the youth through internet network.