Ambition 2020
project: Adopt-a-Child to Educate until decent employment
This project is conceived,

managed

, and

sponsored

by Dammam-Khobar Chapter of Bihar Anjuman

Pledge your support: write to dammam@biharanjuman.org [Subject Line: "I would like to support Ambition 2020 Project"]

. Shape the future of more than 200 poor children.
2nd DINE-TO-EDUCATE program, on 21st March 2013, was a huge success in Dunes International School, Dammam
TwoCirlces News
||
Arab News
||
Okhla Times
NRIs of Bihar–Jharkhand living in Eastern province hosted a benefit dinner which was packed to its capacity of more than 700 guests at Dunes International School campus, Al Khobar.
Empowering through education is what this group wears on its sleeve, adopting children & supporting their education from the poor & low income group families back in India. Promoting multicultural Indian value system & reaching out to the needy across the regional boundary, irrespective of caste, creed & religion & aiming high to have one center in each state of India.
The glitz, the glamour, the go-go guys, all that came to a blistering climax on Thursday, the 21st of March. Star-studded evening was anchored by affable, amiable & articulate Dr. Anwer Ahsan, of Patna, senior-most pediatric surgeon in Ministry of Health, Dammam.
Behind all the razzmatazz, the man, the convener Mr. Syed Rashique Ahmad welcomed the guests by presenting a welcome note as the program began.
Flower bouquet & memento were presented to sponsors, who were felicitated by special invitee Dr. Laique Ahmad, Eye Specialist-Patna/Jeddah & Patron of Bihar Anjuman Jeddah Chapter.
Speakers included Mr. Firoz Ahmad from Patna in KFUPM, Mr. Mirza Zaheer Baig from Hyderabad in KFUPM & Mr. Kamal Ahmad from Delhi of "Radiance Viewsweekly, New Delhi"; speeches veered around importance of education in lower strata of the society.
Brief presentation about SEWA, was made by Mr.Arshadul Haque, Project Manager of SEWA. This is another project of BA Dammam-Khobar chapter. Mr.Ammar Bu Khamseen, owner MJB Electronics & Mr. Ahmad Pullikal, Owner of Badr Al Rabie Medical Group graced the evening as Guests of Honour. Chief Guest the inimitable blessed visionary Mr. Sheikh Abdul Razak Ali Al Turki. who enthralled the audience with his fascinating & thoughtful messages.
Hospitality team included Dine to Educate 2013 Project Manger Mr. Javed Khan, D-K Chapter's General Secretary Mr. Salahuddin Khan, Finance Secretary Mr. Jawed Ahmad and Advisory Committe Members, Mr. Younus Imam Khan,Mr. Syed Khalid Naseeruddin, Mr. Sayed Suleman Azhar,Mr. Shakil Hashmi, Mr. Zeya Khan, Mr. Syed Faiyaz Mohsin, Mr. Firozuddin Mohammad, Mr. Haseen Raza Khan, Mr.Humayun Rasheed, Mr. Ahmad Kamal Faizi, Mr. Kalim Akhtar, Mr. Naushad Siddiqui, Mr. Syed Gulrez Alam, Mr. Wasique Hashmi, Mr. Serajuddinn Khan, Mr. Ghulam Rabbani, Mr. Sirfraz Haq, Mr. Iqtedar Ahmad, Mr.Razaul Islam, Mr. Md. Reyaz, Mr. Md. Zahid, Mr. Qamar Nadvi,Mr. Andalib Rahman, Mr. Rizwan Khan, Mr. Md. Imdadullah, Mr. Choudhary Zeyaur Rahman, Mr. Raza Murtaza, Mr. Perweez Hussain Akhtar, Mr. Wasim Amanullah & many unsung heroes, put up brilliant show together.
Mr. Javed Khan, Mr. Syed Khalid Naseeruddin, Mr. Serajuddin Khan, Mr. Sayed Suleman Azhar, Mr. Jawed Ahmad, Mr, Arshadul Haq & Mr. Andalib Rahman pitched ideas, deals & worked out the arithmetic to make the event more successful.
Taya Restaurent, Al Khobar provided the dinner with delicious mouth-watering dishes.
Charity partners & co-sponsors are as follows:
1. Redtag
2. Sitco
3. Badar Al Rabie Medical Centre
4. MJB Bu Khamseen (Panasonic)
5. Al Majwal Travels & Tourism
6. Taya Restaurent
7. Nesto Hyper Market
8. Jana Marine
9. Worldrep Chemicals
10. Fouz Chemical
11. Saeed Computers
12. ABC Computers
13. Skyline Placement
14. Dunes International School
15. Earth Con & Investor Junction
16. Golden Restaurant
17. Ghazi Restaurant
18. Abdulla Fouad Holding Co.
Inaugural Function (Dine-to-Educate The Poor Children) in Dunes International School, Dammam, 12th January 2012
For TwoCirlces News coverage,
pls click here
.
Bihar Anjuman's Dammam-Khobar chapter organized a 'Dine to Educate' program, a benefit dinner and awareness programme, on Thursday, January 12, to launch its upcoming project
AMBITION 2020
aimed at adopting to educate children belonging to the poorer sections of the society.
Some 550 Guests & Delegates who gathered at Dunes International School, Al-Khobar were welcomed by Mr. Syed Tahseen Ahmad Sb who emphasized on the details of the project, AMBITION 2020. The presidential speech was given by Janab Dr. Syed Tasneem-ur-Rahman Sb, an orthopaedic consultant at ARAMCO Hospital. A symposium on "WORST EDUCATIONAL CONDITION IN BIHAR & JHARKHAND - Reason and solution" was presided over and summed up by Mr. Muazzam Naik who called for setting up of minority educational institutions as an immediate and vital solution.
Mr. Md. Salahuddin Khan Sb, Gen. Secy. (Dammam-Khobar chapter) stressed on the importance of Muslim community to join hands for helping the poor and needy as he presented the Annual Achievement Report 2011 of this chapter. A call was given to one and all to come forward and get ready to take the challenge that lies ahead. Bihar Anjuman Dammam-Khobar Chapter's effort to take the onus, and belief in self-help, came up as a clear message through the words of distinguished speakers.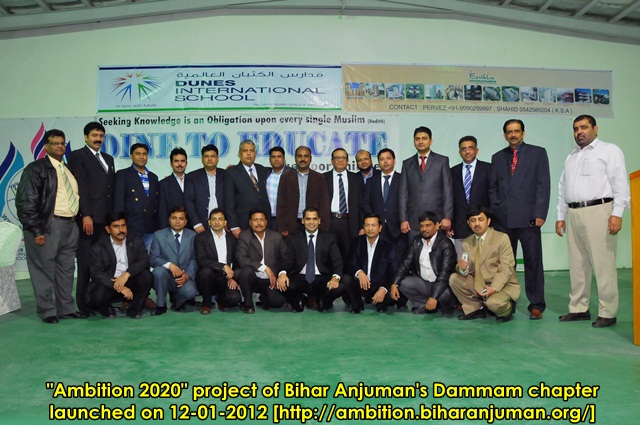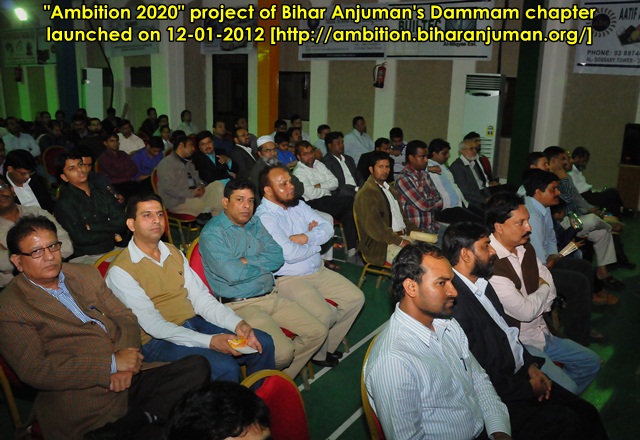 Project Concept:
Rasheeda, a house-maid, sends her child, Abdul, to a nearby dhaba as early as five in the morning when the Muazzin calls for Fajr prayer, only to return by late night. Abdul and Muslim are kids alike who have lost all rights as a human beings, and live a life of utter slavery, deprived of basic needs, proper food, remain malnourished, and under these circumstances, education can never be their priority. Indian Muslims are a victim of neglect and deprivation, not just by the state, but by their own affluent brothers who are least bothered to come out of their cosy blankets.
Bihar Anjuman's Dammam-Khobar Chapter has pledged, in this scenario, to proactively make things happen by reaching out to people whose hearts still beat for the Ummah, and by inspiring others in our effort to help our less fortunate brothers in faith. Allah (swt) calls us to spend in His way, that of the needy, for they have a share in our income and spending on them is an obligation (Fardh) upon us.
The latest project, AMBITION 2020, that Bihar Anjuman's Dammam-Khobar Chapter has undertaken aims to adopt a child from such sections of our society that live in abject poverty and are willing but incapable to educate their children.
Intake level: 5th grade [200 of Grade-5 students to be adopted each year]


Number children to be adopted
: 200 per year until it reaches 1,200 in 6 years
| | | | | | | |
| --- | --- | --- | --- | --- | --- | --- |
| Year | 2012-13 | 2013-14 | 2014-15 | 2015-16 | 2016-17 | 2017-18 |
| Number | 200 | 400 | 600 | 800 | 1,000 | 1,200 |
| Grades | 5 | 5 & 6 | 5, 6 & 7 | 5, 6,7 & 8 | 5, 6,7, 8 & 9 | 5, 6,7, 8, 9 & 10 |
Expenses to be covered
: Entire expenses of every child to be covered.
Management Committee of Ambition 2020 Project:
1.

2.
3.
4.
5.
Your suggestions can make this project more beneficial for the target students, and for the society, as a whole. Please take 2 minutes to submit your suggestions, by clicking here, or writing to myrahbar@gmail.com
Shikwa-e-zulmat-e-shab se to kahin behtar tha;
Apne hissey ki koi shamm'a jalaate jaatey. [Ahmad Faraz]
| | |
| --- | --- |
| Better light a candle than curse the darkness | |