Bihar Anjuman's Patna chapter appeals to HRD minister to revoke the decision to cancel the exam centre at Darbhanga (Bihar) for admissions to MANUU Polytechnic
:


Respected Dr. M. Mangapati Pallam Raju
Minister of Human Resource Development
Government of India
New Delhi.
Subject: Cancellation of exam centre at Darbhanga (Bihar) for admission to MANUU Polytechnic
Sir,
With due regards, we like to bring forth some facts for your kind consideration:
(1): Sachar Committee Report & Status of Follow up Action (as on 31.01.2013) reads as:
The Government of India took several decisions on the recommendations of the Sachar Committee and a statement in this regard was laid in both Houses of Parliament on 31.8.2007.
Ministry/Department-wise status of follow up action on implementation of recommendations of Sachar Committee are as under:
Ministry of Human Resource Development: A multi-pronged strategy to address the educational backwardness of the Muslim community, as brought out by the Sachar Committee, has been adopted. With a view to ensure educational empowerment of minorities, the Government has initiated several measures as given below:-
(d) Under the sub-Mission on polytechnics, financial assistance is provided to the States/UTs for setting up of polytechnics in un-served and under-served districts. 57 districts out of 90 minority concentration districts are eligible for consideration under the scheme. So far an amount of Rs. 291.06 crore has been released as initial grants for setting up of polytechnics in 49 out of 57 Districts.
(2): Maulana Azad National Urdu University (MANUU) Hyderabad has established three Industrial Training Institutes (ITIs) and three Polytechnic Colleges in Hyderabad Bangalore and Dharbanga respectively.

(3): But, the other side of the story as reported in news papers says that Polytechnic pass outs of the first batch (20008-2011) from Maulana Azad National Urdu University (MANUU), Hyderabad have been denied admission (lateral entry) into B.Tech Courses, Hyderabad despite clearing the E-CET 2011. The reason stated by them is that the Polytechnic of MANUU is not recognized by AICTE.
(4): Secondly, the Vice Chancellor of MANNU, Hyderabad has cancelled recently the entrance exam centre of Darbhanga (Bihar) for admission to MANNU Polytechnic and directed all aspirants to come to Hyderabad for appearing at the entrance exam as well as for counseling.
(5): Sir, we run a charitable academic organization "BIHAR ANJUMAN "in twenty four districts of Bihar and Jharkhand with a capacity of hundred downtrodden children in each district ranging from class-viii to class-x. Some of these non-resourceful students used to appear at the Entrance Exam centre at Darbhanga itself. By the grace of God, our twenty nine students are now getting education at MANNU Polytechnic. But this year, their dreams have been shattered. These un-served children of our society have been thrown from pillars to post. BIHAR ANJUMAN and poor parents are not in a position to send their children to Hyderabad for appearing in the entrance exam. The approval ofDarbhanga and Banglore polytechnic has been lying in the file of the Vice Chancellor, MANNU and All India Council of Technical Education(AICTE) since 2008.
We request your honour to kindly pass suitable order to concerned authorities to conduct entrance exam for admission to MANNU Polytechnic at Darbhanga (Bihar) itself and to finalize the approval of Darbhanga and Banglore Polytechnic by AICTE at the earliest.
Yours sincerely,
(i) Md. Shoaib Khan, Rtd. IPS
(ii) Md. Enam Khan, Convener, Bihar Anjuman,
Harun Nagar, Phulwarisharif, Patna.

Anti-social elements force Rahbar Coaching Centre, Dhanbad @ Baghakuri, Kumardhubi, to shift from "its own premises" to the home of Janab Muhammad Talha Sb.
Janab Engineer Shahid Amin Sb, the founder of RCC Dhanbad reported, "At Baghakuri where we were running the coaching centre we have got some trouble from unsocial elements. They forced us to pay rent for the building to the masjid committee. Although the people of Baghakuri had made a firm commitment neither to disturb the coaching centre nor to charge any rent. It may be recalled that we transformed the dilapidated building into functional classrooms at our own cost, based upon this commitment.
We tried to convince them much but the situation was not in our favour. So we have shifted the coaching to the house of Jb. Muhammad Talha Sb. May Allah SWT accept his kind deed from all of us, and bless the students of this locality with greatest possible success.

Alhamdulillah, the coaching centre is running with renewed spirit. The house of Jb. Muahmmad Talha Sb is about 1/2 Km away from the previous location.

Admission to class VIII is going on. In sha Allah, the coaching center will bring very positive changes in our society."

A day-long Medical Camp marked the RAHBAR Coaching Centre, Motihari (East Champaran) @ Siswa's 19th Awards ceremony on 7th April 2013
,
http://motihari.biharanjuman.org/
].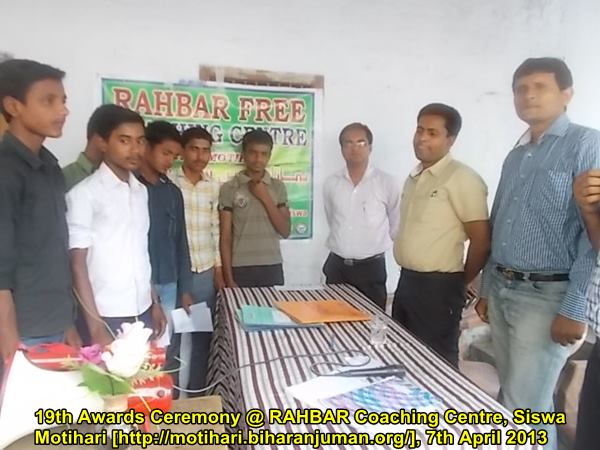 Dr. Sabit Hussain (Motihari Medical centre) brought special benefits to the monthly awards program when he was invited to be the Chief guest on this occasion. Special Invitees at this special awards ceremony included Dr. Tahera Tabbassum, Dr. Imran, and Dr. Firoj Ahmad, reputed doctors of the district.

The award ceremony was conducted in the campus of Al-Ameen Educational and welfare Trust, Siswa , Motihari. A medical camp was held on this occasion in the campus of the trust. The medical camp started at 10:00 am. and concluded at 4:00pm. Medical camp was organised by the trust in which many doctors participated. At the end of the medical camp which benefited the Siswa villagers, the monthly awards ceremony was commneced at 4:10 pm; it started with the recital of the Holy Quran by Sufia Fatma, a student of class VIII. After this, Sadqua Khursheed, another student of class VIII, recited a naat.

Later, Dr. Mukhtarul Haque introduced the Rahbar free coaching Centre, its objectives, and mode of functioning. Then, the special invitiees Dr. Sabit Hussain Sb. was called for addressing the students. He gave special tips of education that will be source of success in the competitive examinations. Then Jb. Shamim Akhter Sb. announced the result of the student and the award was distributed by the chief guest Dr. Sabit Hussain Sb. then programme was conducted with the dua of Dr. Sabit Sb.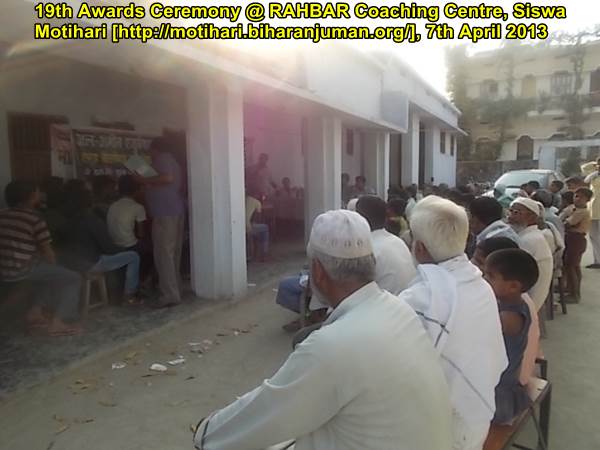 Released by Shoaib Khan Sb, IPS: Model Question Paper of MANUU Polytechnic Entrance Exam, and Mock Test for Aspirants of Diploma Engineering:

A model question paper for MANUU Polytechnic's entrance examination, and a list of important terminology in English, Hindi and Urdu were the two booklets released by Janab Shoaib Khan Sb, IPS, ex-DIG of Bihar, who has been guiding the RAHBAR Coaching Centre students of Patna for the polytechnic admission tests since inception of the RCC. The model question paper consists of 100 questions- 50 questions of Math and 25 questions of Physics and Chemistry each and allotted time is 2 hours. Script of exam is Urdu.
Circulating these two immensely useful booklets absolutely free (the soft copies), Shoaib Khan Sb explained, "This model question paper may be sent to all our centres of BIHAR ANJUMAN. Teachers should be advised to take examination on the basis of this model question paper (MOCK TEST) of all aspirants seeking admission in Polytechnic of MANUU. The result of exam of each student may be collected from all centres to assess the preparation status of students and further improvement if needed. Teachers should explain to the students of their strength and weakness found in this Mock Test. I will appreciate suggestions, queries and reactions of students, teachers and parents."
MANUU 2013-14 admission forms are available on their website [www.manuu.ac.in]. Enam Khan Sb,, the convenor of Patna chapter, requested all the members of Bihar Anjuman to inform students of their respective areas to fill up the form as early as possible. He has also arranged to inform all the RAHBAR Coaching centres. In his appeal, he said, "Your help will make this job of making the information reach every aspirant easier. Please note that new admissions to polytechnic courses at Darbhanga and Lucknow are closed this year (no new admissions will happen at these centres). The number of seats in Hyderabad has been increased from 40 to100. Forms and entrance examinations will be held in all the centres, that is, Darbhanga, Bangalore, Lucknow, and Hyderabad, but admissions (and classes) will be only in Hyderabad."


"Empower yourself through Education and Sports" is the recipe for success given by chief guest in 18th Awards ceremony of RAHBAR Coaching Centre, Bhagalpur @ Puraini village, on 07/04/2013,

at Chief Guest of the occasion, Janab Md. Afroz Alam Sb. of Puraini village, and the Guest Of Honour, Janab Md. Anzar Sb. of the same village marked their presence by sharing with the RCC students recipe for success.

The programme was conducted by jb. Syed Ali Manzoor sb. (committee head) the programme was initiated with recital of holy Quran by hafiz Matiur Rahman sb.

After that shortlisted students were distributed cash prizes by the chief guest and guest of honour.
The students were congratulated by them. The chief guest Md. Afroz gave a brief speech on value of education and value of sports.

He said that education carries a lot power the world is managed by the educated with the permission of ALLAH.
If you attain the power of education through dedication and hard work no one can ignore you nor can pull down in this society so you must try to get best possible education.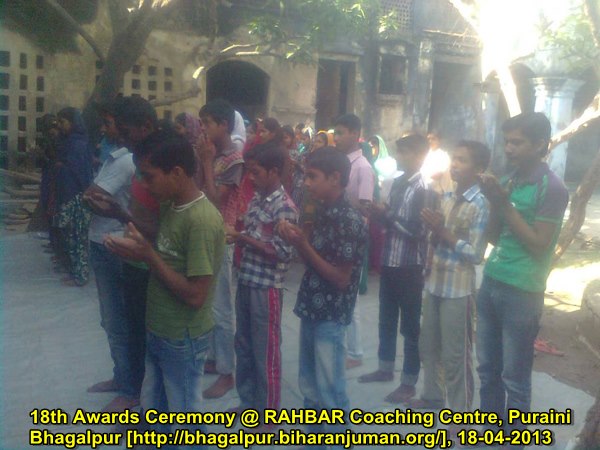 Finally the vote of thanks was delivered by the centre in change and committee head.
The program was concluded by the chorus recital of "Lab pe aati hai dua ban ke tamanna meri"
Afterwards, sweets were distributed among the students and refreshment was served to the guests.


RAHBAR Coaching Centre, Muzaffarpur @ Chandwara conducted its 34th Awards Ceremony on 20th April 2013 @ Hazrat Ali Academy, Chandwara:
The ceremony started at 4:20 pm, with oration of Quran by Md khalid, a student of class 8th.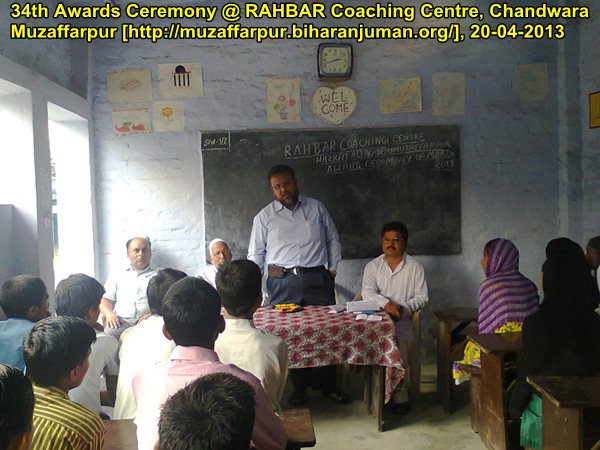 Dr. Aazam Rahamani conducted the program. First of all, he introduced all the guests and invitees to the attendees. He thanked all the guests for taking time out of their busy schedules for this occasion.
As Chief Guest, Janab Rais Sb., Professor at MSKV College, Muzaffarpur, graced this pleasant occasion, while Special Invitees included Janab Mansoor Alam Sb., patron of RCC Muzaffarpur, Janab Mohd Ehsan Sb., Janab anil kumar sb, and Janab jawed sb.
After a short introduction of Bihar Anjuman's activity & purpose of the Coaching, the Chief Guest shared his experience. He motivated the students to struggle hard. He explained that
human being is the best creation of Almighty but when human being lives in ignorance and does not follow the path shown by the messenger and worships other than his Creator, he harms himself by pushing his own position down to the lowest of the low.
Prof. M.M Alam Sb., in his address, expressed pleasure at the fact that Bihar Anjuman has opened many free coaching centres in Bihar and Jharkhand. He delivered his motivational speech, in which he told the students that they should work hard to get success as it is like the foundation stone on which they can build their bright careers. The program ended with Dua.

9th Awards Ceremony of RAHBAR Coaching Centre, Siwan @ Barhariya, was conducted on 18th April 2013:
Professor Janab Ali Ahmad Sb. (Islamia college, siwan) was the chief guest, while principal Sri Ram Avtar Singh (Ambedkar college), and Quri Maulana Jamshed Sb. were the special guests on the occasion.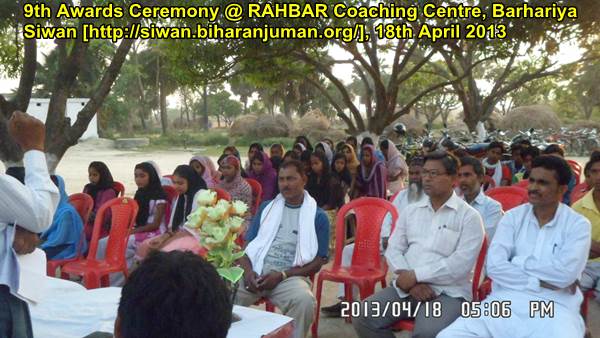 Sri Ram Avatar addressing the students said, "Education is the root of your success and success is based on discipline".
Mr. Mannan threw light on importance of education saying that there is no life without quality education.
Professor Ali Ahmed Sb. of Islamia college of siwan said, "Education builds the character and character gives you better way in every walk of life. Hence, it is essential that you must learn to possess the ideal character."
If you want to remain in the world forever you must be educated with ideal character.
Final speech was delivered by Dr. Wasimul Haque. Firstly, he thanked all guests who managed their precious time for attending this function. He focused on the aim and objectives of Rahbar Coaching center. He said that there is lack of quality education in Bihar generally in Muslims and Poor family so the priority of Rahbar is to provide good and quality education among to afford money in other institution.